David
is now semi-retired, and, indeed, opportunities to develop projects have been somewhat limited during the recent pandemic. However, he has continued to enjoy fulfilling a more limited number of commissions for sundials, memorials and housenames, and still welcomes enquiries.
Dispatches from the workshop
December 2021 This is David's entry for the Somerset Guild of Craftsmen's 2021 Advent Calendar.
He is shown carving the missing letter for a seasonal word.
The hand carved bricks are popular for doorstops, bookends, initials, housenames etc and are his staple stock item at the Guild's Gallery and Shop in Broad Street, Wells.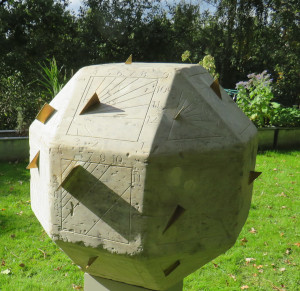 October 2020 The re-birth of a large polyhedral sundial. It was quite a challenge to restore 25 sundials to this monstrous chunk of sandstone.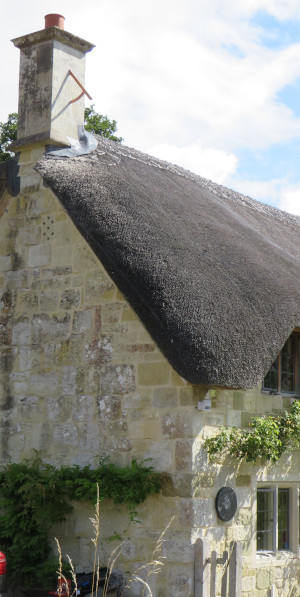 August 2020
Bits of the old chimney sundial on a restored 16C Mill house in Wiltshire were found amongst the rubble. David delineated the new sundial based on a 1905 photo, and created a slate equation of time in the shape of a millstone (see above the gate).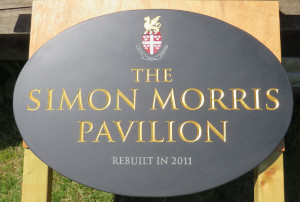 June 2020
The Simon Morris Pavilion on the Upper playing fields at Kingswood School, Bath, was named in honour of the departing Headmaster, Kingswood School 2008-2020.
March 2019
Memorials are always important and special commissions. This headstone at All Saints Church, Trull, Taunton, is one of about 12 headstones or memorial tablets that David has completed since April 2016.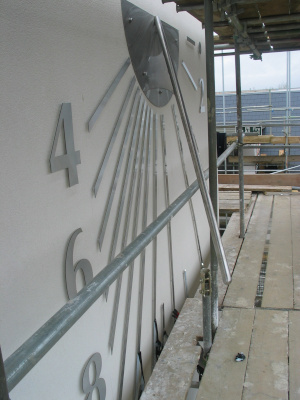 December 2018
Sundial projects sometimes encounter unexpected obstacles, leading to a revised plan of action.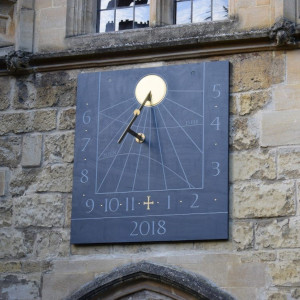 December 2018: An old print showed a sundial (long gone) dated 1777 above the door of St Edmund Hall's Library (formerly the church of St Peter-in-the-East), Oxford. David was commissioned to make a modern replacement.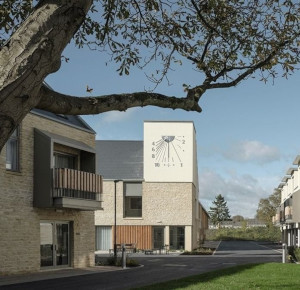 February 2018: David's stainless steel sunburst and gnomon with matching hourlines looks splendid on the otherwise blank wall of the community centre at Steepleton Retirement Village, Gloucestershire.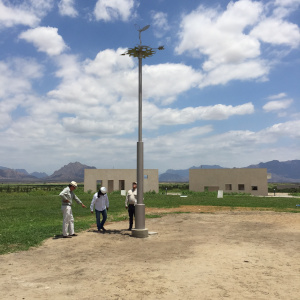 January 2017: At Olmos Company Village in Peru, a flaming sunburst atop an 8m pole casts a shadow which shows noon on equinox and solstice days. Nearby is a polar sundial on a little jetty over the pool in the centre of the compound.
Photo: Robin Begg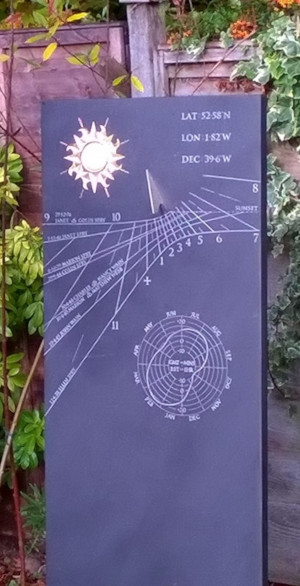 November 2016
This 70th Birthday vertical sundial on a slate monolith features family datelines.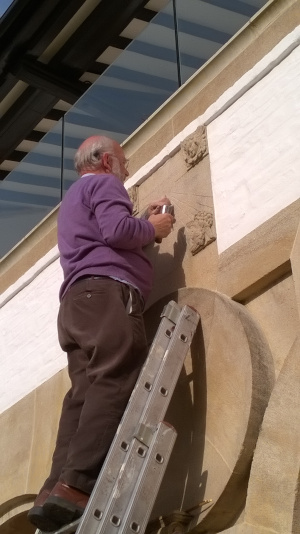 November 2016
A simple request for a gnomon led to a Magical Mystery Tour in leafy Surrey.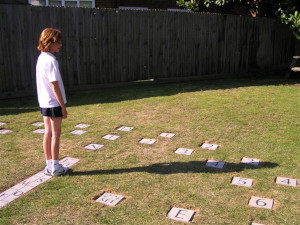 August 2016: This project was a wonderful collaboration between the 9 year old winner of the Post Office Letter Writing Competition in 2015, her family, her school and us.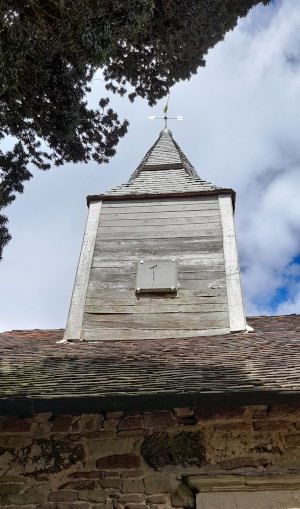 July 2016 David's vertical slate sundial replaced the original when the ancient wooden tower on the Hanley William Church, Worcestershire, was rebuilt.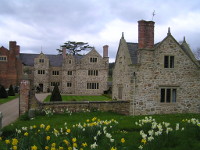 April 2016: Moondial designed and built for a private client, near Oswestry, Shropshire.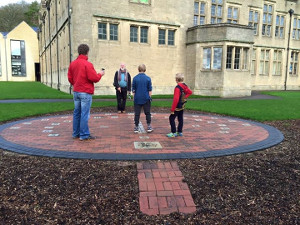 July 2015: New analemmatic sundial designed and built for Kingswood School, Bath to replace an earlier one on the same site damaged during building construction.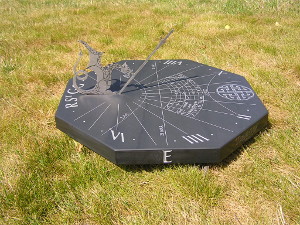 July 2015: Octagonal slate horizontal sundial for a private client to commemorate a 21st birthday, gnomon in the shape of a dragon in reference to the family name of the recipient.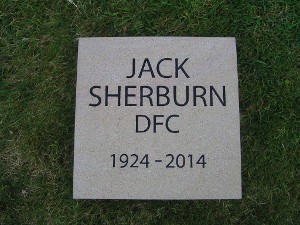 August 2015: Memorial tablet, York stone.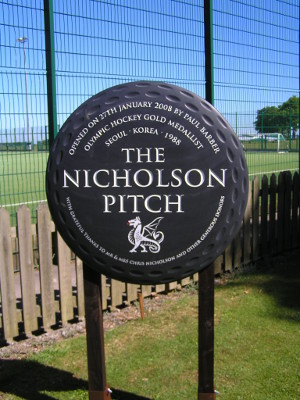 June 2015: Slate roundel for the Nicholson Hockey pitch, Kingswood School.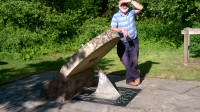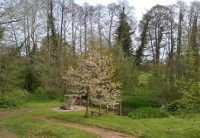 May 2015: Cleaning and restoration of the combined equatorial and horizontal sundials that David designed and helped construct at Piles Mill, Holnicote, Somerset, in 1994.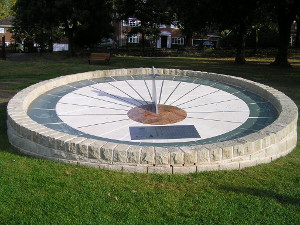 July 2014: Design and Construction of a sundial to replace a former floral clock in the refurbished Eureka Park, Swadlincote, Derbyshire.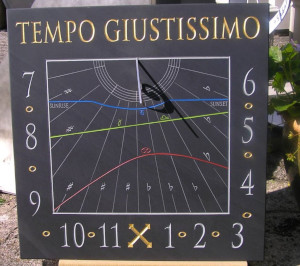 October 2014: Vertical Sundial for a Musician.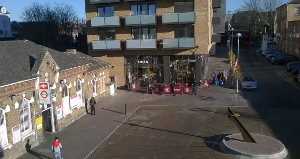 December 2014: Sundial designed for forecourt of Walthamstow Central Station redevelopment scheme..
From the Archives
April 2014: David's sundial in the Queen Elizabeth Olympic Park is alive and well.
March 2014: An analemmatic sundial was installed at the Hill End Outdoor Centre at Farmoor near Oxford.
Nov 2013: This page highlights some of David's 2012 and 2013 projects.
July 2012: Sunshine & Action on the Sundial at the Olympic Park. Read more...
May 2012: David's London 2012 Olympic sundial is now all set to go - just waiting for some sun to take some decent pictures, and to use it!
July 2011: Sundial designed by David, installed at the Olympic Park in London.
Spring 2011: David commissioned to supply an Analemmatic dial for the Olympic Park, London 2012.
October 2009 - October 2012: David's period of office as Master of the Somerset Guild of Craftsmen