This page highlights
some of David's most recent projects:
---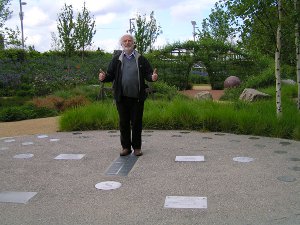 April 2014: David and Jenny visited the Queen Elizabeth Olympic Park, as it's now called, on Sunday April 27 and were delighted to find that David's sundial is alive and well, still nestling as the silver ring in the almost secret gold, silver and bronze garden down by the river on the opposite side of the main stadium from the Orbit.
Events are now taking place in the Park and the post Olympic reconstruction is almost complete. To date, (free) entry is from the Stratford side only, perhaps awaiting until the Stadium Transformation Project is finished, when presumably the very pleasant access along the Greenway from the south and west will be restored. If you missed the Olympic sundial in 2012 we do hope you will be able to go there in the future.
---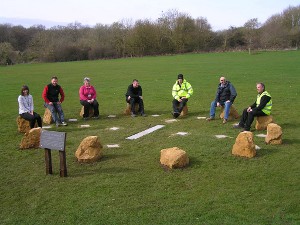 March 2014 An analemmatic sundial was installed at the Hill End Outdoor Centre at Farmoor near Oxford. Commissioned the previous September, the design features small boulders as the hour points, to double as seats. Photo left shows Hill End staff making use of this informal meeting place on March 20!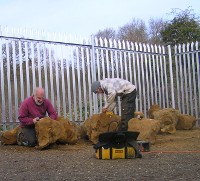 The boulders were kindly donated by the Great Tew Estate and brought to Hill End from their Ironstone Quarry near Chipping Norton in January. The hour numerals were carved into them at Hill End by David and Tim at the beginning of March. In their rugged natural state and rusty brown colour, the boulders look great now they're in position at Hill End.
---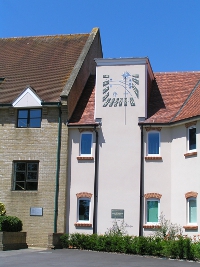 Just before David's analemmatic sundial "opened for business" at the Olympic Park last July, a fine vertical sundial he had designed and constructed for the new science block at Sherborne Girls' School was unveiled in Dorset.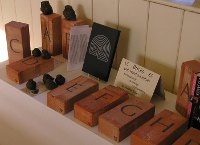 Since then, he's had another busy year making memorials, sundials, house name plates, plaques for opening ceremonies and leaving presents; some refurbishing projects, stock for the Courthouse Gallery in Somerton and the odd bit of research when he comes across sundial mysteries e.g. what's happened to the sundial that used to be at Wollaton Hall in Nottingham?
---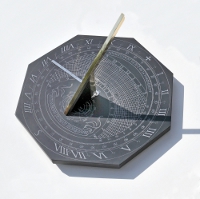 In between times, he's completed a project for himself inspired by the challenge of making a difficult sundial - a double horizontal. Now complete (recorded as M29 in the BSS catalogue) it's only one of two known slate double horizontals in existence, and the whereabouts of the other is unknown. More to come on this next Spring.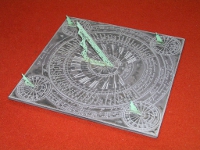 Another major project was the restoration of a sundial made by Richard Melvin in 1856. Richard Melvin probably worked as a schoolmaster in Ireland at one time, and, over a period of about 30 years, made over 60 sundials in Ireland, Scotland and England.
The one that David worked on for a private client, was delineated for Birmingham, a typical design and style, with multiple dials in the corners, a single scientific dial in the centre and a circle of placenames, all in typical Melvin copperplate handwriting. It was in a poor state, but David restored it to a perfectly legible and usable dial - see picture above/left.
---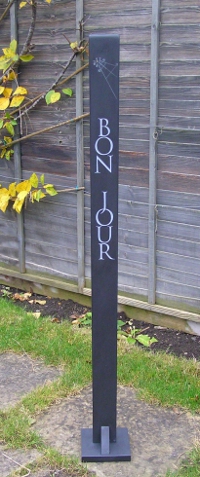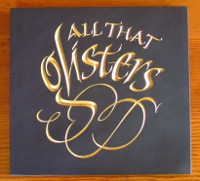 Currently, there's a long list of jobs on the go, mostly sundials, as they're longest in the development stage, and mostly, as it happens, for schools, youth/community organisations or public places (including Eureka Park, Swadlincote).
David's waiting to see how one particular project turns out: the refurbishment of Walthamstow Central Station, where he has designed a large sundial to go in the middle of the adjacent square.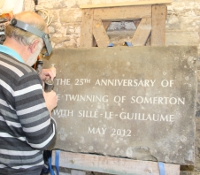 The picture on the left shows David carving a paving stone taken up from Somerton Square to to commemorate 25 years of the French Twinning Association's link with Sille de Guillaume.
---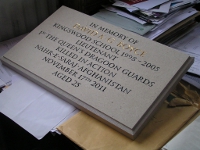 On the left is a memorial ready for installation in the Kingswood School chapel.

Voysey style lettering on an oak chest of Arts and Crafts design made for a private client by a fellow member of the Somerset Guild of Craftsmen.