David
Brown has been making sundials since the early 1990s. A lifelong interest in astronomy and navigation coalesced into a passion for sundial making after a chance opportunity to help install a dial in 1990, and tuition in letter cutting from master letter cutter Tom Perkins and others.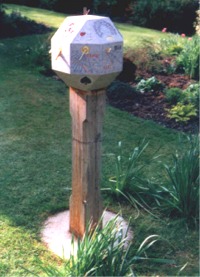 Since retiring as Head of Physics at Kingswood School, Bath, he has been able spend more time perfecting the craft of letter cutting and the art and science of designing sundials.
David specialises in large installations like those he has created for Darwin College, Penshurst Place, the National Trust at Piles Mill, and Christ Church, Oxford.; and in multifaceted polyhedral dials (like the one shown), having many gnomons and many faces depicting the recipient's interests and family events.
David was a founder member of the British Sundial Society and has won awards for his sundials.
In 1996 David won a competition to design and make a sundial for the Pocock Garden at Christ Church, Oxford. This was a complex dial inspired by a seventeenth century dial made by Nicolas Kratzer, 'deviser of the king's horologies', who had been brought to Oxford as a don in Mathematics and Astronomy by Cardinal Wolsey.