Making the Christ Church Sundial
An Account by David Brown
In 1624 Robert Hegge described a dial which had been placed at Corpus Christi College by Nicolaus Kratzer soon after arriving in Oxford in 1521. Robert Hegge wrote:
In this beautifull Alter (on which Art hath sacrific'd such varietie of invention to the deitie of the Sun) are twelve gnomons, the Suns fellow travellers, who like far-distant inhabitants, dwell some under the Equinoctiall; some under the Poles; some in more temperate climates; some upon the Planes in Plano; some in the vallies in Concavo; & some upon ye mountains in Convexo.

Here you may see the Equinoctial dial the Mother of ye rest; who hath the Horizons of the parallel Spheer for her dubble Province, which suffer by course an half-years night.

There lyeth the Polar Dial, wing'd with the lateral meridian.Here stands the two-fac't verticall Dial, & shakes hands with both Poles.

There the Convex dial, elevated in triumph upon 4 iron arches.

Here lastly the concave dial which shews the Sun at noon day the hemispheer of Night.

In other dials neighboring clocks betray their errours; but in this consort of Dials as informed with one soul of Art, move all with one motion: and write with their Styles ye prayse of the Artificer.
Kratzer had come to the court of Henry VIII in 1517/1518 as astronomer and 'deviser of the king's horologes'. He later taught astronomy to the children of Sir Thomas More before entering the service of Cardinal Wolsey. It was Wolsey who was at least partly responsible for Kratzer's arrival in Oxford. Kratzer was in Oxford during 1521 - 1524 probably as Cardinal Wolsey's lecturer in elementary scholastic astronomy at Corpus Christi College pending the completion of the adjacent foundation Cardinal's College. Wolsey founded Cardinal's College in 1525, but died disgraced in 1530.
The College was re-founded as King Henry VIII's College in 1532 and became Christ Church in 1546.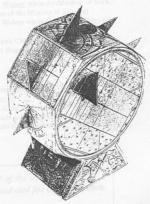 This elaborate dial at Corpus Christi College was one of only four that can definitely be attributed to Kratzer. Of these only two survive. One is a small gilt brass dial given to his patron Wolsey when he was archbishop of York and is now in the Oxford Museum of the History of Science. The other was found recently as a building block in a wall at Iron Acton Court, near Bristol, made in 1520 but rejected as an incorrectly-made dial. It is now in the City of Bristol Museums and Art gallery.
Of the remaining two, one was mounted on a pillar dial at St Mary's Church, Oxford in 1523, and undoubtedly acted as a source of inspiration for the Turnbull (Pelican) dial which now stands in the quad at Corpus Christi.
The last of the four dials, and the inspiration for my new one, disappeared early in the eighteenth century. It stood, however, about 50 metres from the position of the new one that can be seen from the high rampart wall in the Corpus garden which overlooks Pocock's Garden at Christ Church
I mention all this because it seemed to me that when deciding to enter a design for a sundial competition set up by Christ Church with the help of the British Sundial Society in 1996 it would be very fitting to bring back to Oxford a dial very similar to Kratzer's.
Not only would it be placed close to the site of Kratzer's original dial and fulfil the criteria set out by the devisers of the competition but it would add to the general body of sundialling knowledge and styles. At the same time it would add substance to Kratzer's and Hegge's historical documents which carried only drawings and description.
Thus began the process which culminated in the dial now standing in Pocock's Garden at Christ Church, and I hope that in recounting some of my experiences on the way others will find enjoyment, enlightenment and inspiration for other sundial projects. I have used a diary and note format and have tried to be as concise as memory and space allow.
1996
Early Autumn: Received details of competition from BSS (David Young) and replied that I would enter.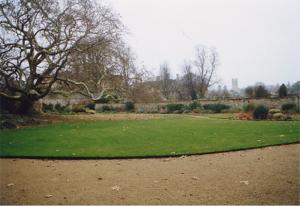 12 Dec: Went to Christ Church to meet Treasurer (at the time) Richard Benthall and to inspect the Pocock's Garden site. Noted proximity of large Oriental Plane Tree planted in about 1660, garden wall, to east, tall Meadows building to south and Cathedral to west.
Limited sunlight in winter. Probably OK in summer. Leaves might be a problem. Bought some College publications at the Cathedral bookshop to help researches.
Rest of Dec.and into New Year: Read thoroughly Sundials at an Oxford College (P.Pattenden), all references to Kratzer in Mrs Gatty / Eden & Lloyd The Book of Sun-Dials and BSS Bulletins. Noted that Lewis Carroll (C.L.Dodgson) wrote Alice in Wonderland from Christ Church and that in Alice Through the Looking Glass there is a lengthy reference to 'toves' from Jabberwocky making their nests under sun-dials.
Thought it was going too far to include specific references to this in my dial, but would try to include some puzzling features for intellectual challenge.
1997
20 Jan: Completed drawings. Showed dial standing on a rough-hewn rock, intending that this should give the impression of the dial having been fashioned from a complete stone as well as to give a safety margin round the dial so that users would not impale themselves on or damage protruding gnomons.
Wrote to a number of stone suppliers for quotations on the cost of supplying and fashioning the dial shape (no incision work to be done). These varied from total rejection of the idea as a single piece of black slate, through approx £500 to £1000 for a limestone block to £16,000 (+ VAT!) for green slate. In the end, decided on a realistic option for purpose of design submission - there was a cost limit.
24 Jan:Discussed structure requirements/strengths of foundation etc. with estates manager at Kingswood School, Bath (where I was teaching at the time). Modified drawings accordingly.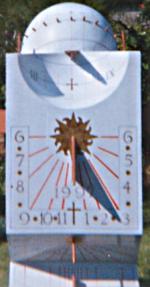 End of Jan: Made working scale model in card, polystyrene, wood, 1/10 full size, with all details included. Added 5 Imperial-size display panels having copies of drawings together with historical references and explanatory texts.
First week of Feb: Took model and display panels to Christ Church. Received acknowledgement and info. that there had been twelve designs submitted.
End of March: Received news of having won the competition. Amazed, honoured, frightened. Discussed some details with the Treasurer at Christ Church.
10 May: Sent revised plans. Changed rough-hewn rock for formal plinth. Dropped some features:
- Full Christ Church coat of arms simplified to just cardinal's hat.
- No St.Frideswide.
- No letters O (for Occidens) on west face , M (Meridies) on south face, O (Oriens) on east face or, rather disappointingly, S (Septentriones) on the N face. This last one would have been quite a puzzler because a letter S would have been on the N face. Ah, well!
Sent details and asked for final quotation for Portland Whitbed stone plinth and dial shape from Drings (Bath) Ltd. (now Hanson Bath and Portland Stone).
20 May - 3 June: Entries on display at the Christ Church Picture Gallery. (Wow!).
June - July: Made full-size working model in wood, MDF, thermalite block covered in plaster (for spherical surfaces) all painted, decorated etc etc.
Finished with much suffering and anxiety two days before youngest daughter's wedding, and took to Christ Church for their final approval.
August: Further modification to some small details on the dial, including the addition of dedication to Joan Page, long-serving College Secretary and generous benefactor of the College.
22 Nov: Firm order to Drings for stone. Foreman Chris Tanner very helpful - Made valuable suggestion that the hemispherical surface on the top of the dial should be a separate piece. This would allow a hole to be drilled into the centre of the main body of the dial to accept a lewis pin for lifting purposes. Agreed.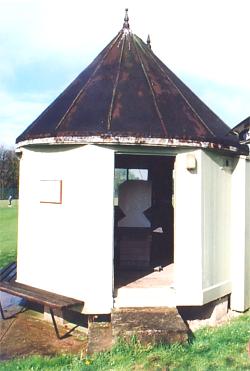 Realised I could not accommodate the stone at home because of difficulty of getting it into and out of my small workshop. Hit on the idea of using a defunct observatory at school. This had the advantage of a firm concrete central base which had been the support for a telescope. Building well away from rest of school. Great.
Drings delivered the stone and we put it into place with the help of strong workmen. Resolved to look forward to the day when I could have my own drive-in workshop with overhead lifting gear.
12 Dec:Collected large model from Christ Church. Will be useful for lecture purposes at a later date.
1998
Jan: Started work on the dial. Wonderful stone, taking fine detail.
3 May: Spoke at BSS AGM at Dunchurch Lodge, and described work to date. Took full-size working model for display.
23 May: Replied to anxious letter from Christ Church Treasurer wondering about progress, and wanting a date for completion.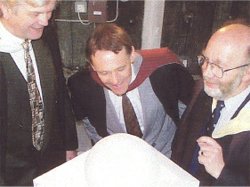 May - Sept: Including most of Summer Holiday, continued work on the dial. Visitations from colleagues wondering what was going on.
Sept: Correspondence with College about getting their Clerk of Works, Tony Morris, and assistants to do the foundation work. Dr Ian Wootton kindly agreed to establish the meridian direction for them, greatly preferring that for accuracy to their suggestion of using a compass.
27 Oct: (Week of half-term) Finished the dial. Much rejoicing. Started work on packaging for safe transport.
28 Oct: Finished packaging. Hired flat-bed truck and managed to get school workmen with tractor grab to load up the dial. Greatly anxious moments at times, but safely done in the end. Terrible weather.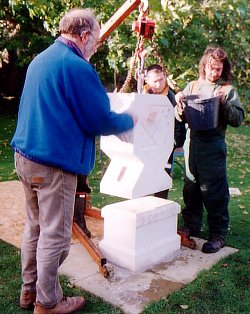 29 Oct: Drove to Christ Church with various members of family in convoy homing in from Gloucestershire, London and Somerset to be conscripted workmen and field kitchen orderlies.
Fine day, thankfully. Tony Morris and son plus others all raring to go with fork lift and chains. All in place by 4 pm.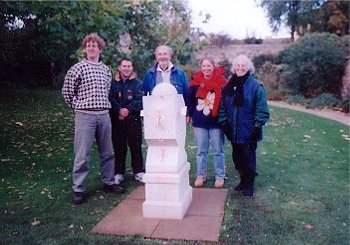 Dial in shadow of Meadows building. Alignment seemed OK from the few minutes of sunshine we had. Great jollity and much relief at the end.
1999
11 Jan: Asked to help produce explanatory pamphlet. Did drawings and artwork. Pamphlet eventually produced by Oxonian Rewley Press Ltd.

Finally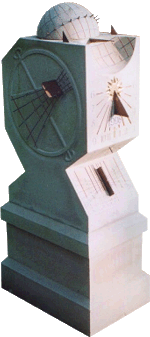 I have discussed access to the dial with the new Treasurer, Hugh Richardson. His reply was that:
The sundial is in one of our gardens to which the public does not normally have access. However, for those with a particular interest in seeing your sundial, the best course would be for them to apply to the Treasurer here and we can do our best to make arrangements which are convenient for a visit.

This is largely a security and administration issue and we certainly would not want to dissuade anybody from visiting - provided it is a trickle rather than a flood!
References
Philip Pattenden: Sundials at an Oxford College. Roman Books, Oxford 1979
Eden & Lloyd: The Book of Sun-Dials. George Bell and Sons, London 1900
Corpus Christi College MS CCC 40, 152,430.
British Sundial Society Bulletin (various)