Horizontal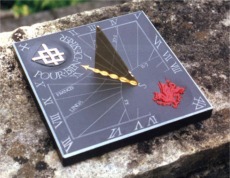 dials may be made in the shape of your choice, in stone or slate. Inscriptions can be carved around the vertical sides.
Shown right is a horizontal dial in Welsh blue-black slate to commemorate a wedding, with a Welsh dragon ( the bride was Welsh ) and the groom's family knot and motto. On the gnomon is a nodus (notch). The shadow cast by the nodus moves around lines drawn for the bride and groom's birthdays, and their wedding day each year.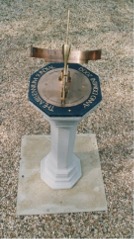 In the dial shown to the left, David has carved an inscription on a slate ring encompassing an existing brass equatorial dial.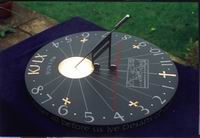 On the right another example of a horizontal slate dial, this time for a musician. Musical notes support the gnomon. There is also an inscription round the edge (not visible on the photo).