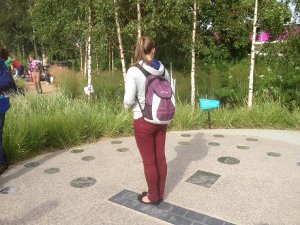 The sundial
is in the silver section of the Great British Garden, about 60m to the north west of the main stadium.
All the gardens in the Olympic Park are at the lower level alongside the waterways that thread their way between the stadiums, accessed from the main concourse, bridges and walkways; they include the stunning gold meadows and dazzling masses of mingled flowers of all colours.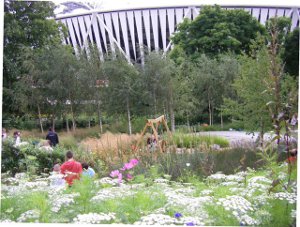 The Great British Garden is full of blues, whites, pinks, purples and yellows amidst grasses and trees. There are three circular areas - gold, silver and bronze, with the suggestion of a running track, and fun elements including a willow screen and tunnel (now hung with messages), a swing seat, a sand pit, frog pond - and the sundial! This garden is a family area for the duration of the games, with all sorts of activities being run by students from LOCOG's Get Set Schools and International Inspiration, the London 2012 Sports Legacy Programme.
Do go there if you can and the students will show you how to use the sundial! Enter the garden through the gate opposite the EDF pavilion near World Square. Locate on a Map