An Intriguing Job:
How a simple request led to a
Magical Mystery Tour in leafy Surrey
Jenny Brown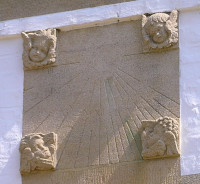 In April 2016, David received an email asking whether he could supply a gnomon by mail order. The attached photo showed an attractive square vertical sundial carved directly onto bare limestone or sandstone set into an impressive facade of matching stonework and white painted brick. The dial itself featured a putto carved in relief at each corner. There was indeed no gnomon and the hour lines and numerals were barely visible (Fig 1).
David's response indicated his willingness not only to supply and fit the gnomon but also to carry out restoration of the sundial by re-cutting the hour lines and numerals. He proposed a visit to take sunsights in order to determine the declination of the wall – necessary information for an accurate gnomon. We were disappointed not to receive a reply to this but were looking forward to visiting the property and seeing the sundial in situ. It looked as if it might have an interesting history and did not appear to be registered in the British Sundial Society Sundial Register. Sundial enquiries often do not progress beyond the initial stages, but we didn't want contact with this particular one to fizzle out. We were intrigued, and determined to keep the ball rolling if we could.
David emailed again, suggested a visit on June 9 (when we would be en route to Heathrow to meet our grandson arriving for a summer visit). He emailed again the day before hoping to confirm the arrangement. By then, we were even more intrigued as we had found out a bit about the property. In the absence of a reply, we decided to go anyway: perhaps we could explain on the doorstep!
The address supplied in the original email showed the property to be in super-affluent leafy Surrey and here, too, persistence and luck paid off in shedding light on the house and its history. We found the property described as "an architectural masterpiece, set in stunning gardens, built in 1938 by Robert Lutyens", on the website of the very upmarket estate agents who had handled the sale a few years previously to its presumably current owners. We later learned that Robert Lutyens' client in 1938 was Woolf Barnato, legendary racing driver and one of the "Bentley Boys". After his death and a somewhat chequered history as a nursing home in the latter half of the twentieth century, the house underwent a steady and sensitive programme of repair and restoration in the early years of this century, and a massive further refurbishment was now under way under the new owners.
We duly turned up on June 9 and were able to announce ourselves via an entry phone set in a high stone wall enclosing a pair of massive oak gates. By this time, we realised that we were probably dealing with staff rather than the owners, who were perhaps abroad. To this day, we're not sure whether we were expected, but when the gates opened, we entered. We made our way directly to the south facing terrace where we knew the sundial would be, passing what seemed like hundreds of builders and landscape gardeners busy around the property, although it was clear that much of the refurbishment was already complete. We needed to wait a while for the sun to come round to illuminate the sundial wall, but no-one came along to supervise us. It was a beautiful summer's day and we felt as if we had suddenly found ourselves in some kind of magical paradise.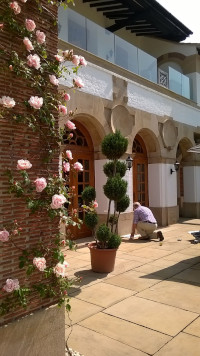 We passed the time admiring the stunning house and grounds. The sundial is at the centre of a beautiful terrace facing lawns, borders and ponds. David took his measurements as soon the sun cast the shadow of his spirit level standing upright on his board placed on the ground below the sundial (Fig 2). We packed up our things and departed feeling more intrigued than ever. We would have welcomed a meeting with David's correspondent or anyone from the household, but we didn't care to ramble around the huge site.
The following day David sent off his report and drawing of the proposed gnomon. He repeated his willingness to do the work and to supply an equation of time. Thereafter, although the order - for just the gnomon - was eventually confirmed (the finished article to be sent by post), the job proceeded by fits and starts. The gnomon took very little time to make, was despatched promptly and our invoice paid by return.
Meanwhile I couldn't understand why the early history of the house remained a mystery. Surely a building designed by Robert Lutyens (son of Sir Edwin) for such a famous client would be well known and a prominent south facing sundial shown or mentioned? I consulted John Foad's article in British Sundial Society Journal Volume 20(ii) June 2008, "Lutyens' Vertical Sundials", to see whether it contained any clues as to sundial collaboration between father and son, or any design similarities between the one we now knew about, and Sir Edwin's eight examples. But no, and my on-line searching revealed nothing until I had the bright idea that perhaps the property originally had a different name. I checked some of the references I had printed out and found this to be so. This pointed me in the direction of new material contemporary with the early years of its first owner and a fascinating glimpse into the life of the rich, famous and style setters (who included Robert Lutyens himself) of the time.
Our clients were keen to have their completed dial certificated and registered with the British Sundial Society. But no photograph arrived, as we had requested, to accompany the registration document. As summer became autumn, David suspected that the gnomon had not yet been fixed (using the instructions he'd sent). In a way, this would be a relief; he would always have preferred inserting the brass gnomon into the fine limestone dial plate himself – quite a delicate job.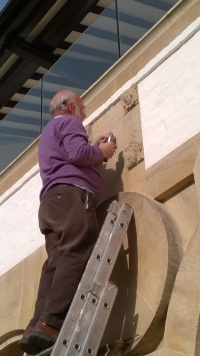 We decided to try and move things on one last time. We were due at Heathrow again on November 3, this time to wave off departing members of our family. Our offer to call and fix the gnomon then was accepted. This time we were expected and welcomed by several members of staff who, luckily for us, took us the long way round to the south terrace which gave us a view of the whole fabulous property and grounds. A ladder was produced and the gnomon was soon fixed (Fig 3). We didn't meet the owners though - they remained a mystery to us.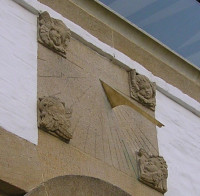 This dial is now recorded in the British Sundial Society Fixed Dial Register, with private access (Fig 4).
By arrangement, we visited the Surrey County Record Office on our way home on November 3. We were able to see and copy photos from a collection by the Head Gardener in 1940 showing the sundial with a gnomon, although no clear details. We also discovered two articles about the house and gardens in Country Life magazines of that year and over time, some more detective work uncovered much interesting information from Listed Buildings and Local Authority documentation, a local historian, Woolf Barnato's daughter and the Lutyens archive.
But so far we have found no references to who delineated the sundial, who made it or the fate of its gnomon, despite further research at the Royal Institute of British Architects HQ at Portland Place in London, and correspondence with individuals known to have been involved with the property between 2001 and 2013. What actually happened to it is still a puzzle. It was possibly lost or damaged at the end of the 1990s, or removed for cleaning.
We will continue our research whenever we have an opportunity to solve this mystery!