Confession Time
David Brown
Out of the blue last October (2020) came this email to me from British Sundial Society member Doug Bateman: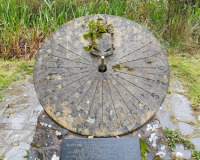 "Whilst walking in Somerset I came across this dial [Fig. 1]. Is this the original location? It seems to be such a smart dial for a fairly humble National Trust location. The monogram is probably yours. JF tells me that you did some restoration in 2015, and it has not been recorded!"
Photo: Doug Bateman
I am sad to say that Doug was right on every point. Then as if to rub it in, a couple of pictures of the sundial appeared in the next Bulletin1 where JF (John Foad, our Registrar) had allocated a Sundial Register Number to it (SRN 8191) as a Newly Reported Dial. Now my embarrassment was complete, in a pleasant sort of way, but the not-so-gentle nudge prompted me to put matters right and seek absolution for my sin of omission and get a proper record in the post almost thirty years late. Lockdown and uncertain weather have pushed me in the direction of paperwork where, to add to my woes, I came across numerous other dials that have left my workshop which I had intended to report in full but never quite got round to, possibly because of the relaxation and relief of having finished a job, or the pressure of needing to get started with a new one, or just the demands of my full-time teaching. The work of reparation is in full flow, and with the unstinting help of she-who-must-be-obeyed, it appears - somewhat unbelievably - that I have created around 215 sundials since 1990. This discovery forced me to look with even greater urgency for my many failures of formal registration, and now a substantial pile has accumulated which will keep me occupied for some time.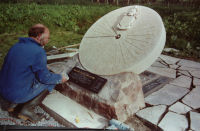 Amongst the papers I unearthed there fell out a pair of short articles written for The West Somerset Free Press by a dear friend Hilary Binding who died, sadly, a few years ago. For many years, she had composed a weekly article under the heading "Notes by the way" which dealt with matters of local interest in a very accessible way. In the early 1990s we were all living in West Somerset and I was getting increasingly involved with all things sundial-related. We decided to go on an Exmoor sundial safari. Hilary's subsequent articles in September 1994 - transcribed below - record that outing. Quite by chance, I read that the last sundial we visited was none other than the one that Doug Bateman had come across (Fig. 2). It was Hilary who had in effect commissioned this sundial on behalf of the National Trust's Minehead and West Somerset Centre, who also funded it.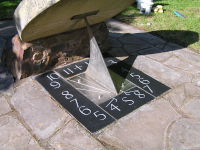 It is sited at Piles Mill, near Allerford which is not far from Porlock in West Somerset. It was set up in 1994 to mark the 50th anniversary of the gift by Sir Richard Acland of the 12,500-acre Holnicote Estate to the National Trust in 1944 and was unveiled by his son, Sir John Acland. The sundial takes the form of a double-sided equatorial made from Limpley Stoke limestone fashioned to look like a mill-stone, shaped by the Trust's master-mason John Salter. The top surface carries the Acland armorials. A stainless steel gnomon with an extended style penetrates the centre of the stone and sits on a slate horizontal dial at its base (Fig. 3).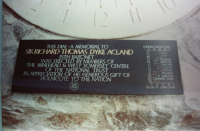 A dedication plaque with a correction curve sits below the upper face of the dial (Fig. 4). I did do some cleaning of the dial and its surroundings in 2015, but since it is located near to a stream it soon re-acquires moss and algae, with plants growing in the cracks of the surrounding crazy-paving.
Here, then, is Hilary's article which might inspire you to follow in our tracks during your 2021 staycation...
In search of a sundial
Hilary Binding
Exploring in this country is becoming an endangered pastime. The fun of devising a route or the serendipitous experience of coming unexpectedly upon some delight or other is rapidly being challenged by the "brown direction signs" which seem to be springing up everywhere. I recognise their value in pointing out commercial ventures to tourists but, at a time when every ten-year-old is being taught the basics of reading an ordnance survey map, I fail to understand why people should be deprived of the pleasure of discovering for themselves.
Happily, there are no signs pointing to "church with sundial" in the vicinity, so when I set out with friends a few weeks ago in search of Exmoor sundials we had to do our homework first, making a list of recorded dials and working out a route. I am no expert but, with the help of an enthusiastic and knowledgeable friend, I have learned when visiting a church to look for both sundials and the earlier scratch dials and have experienced the pleasure of discovering dials that have not been recorded.
As far as I am aware, no scratch dial has yet been found on any West Somerset church although Dom Ethelbert Horne, writing in 1929, identified fine examples in other parts of the county. These simple medieval dials, often shaped like a semi-sun-burst or a protractor, had a central hole where a shadow peg would have been fixed. They were used to determine the time for the church offices, mass, noon and vespers and, presumably, the church bellringer conveyed the information from the dial to the workers in the fields.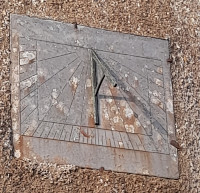 Our first stop was Treborough, the small, grey church that has served this scattered and isolated population on the Brendon Hills for centuries. The sundial above the south porch (Fig. 5) is a simple slate dial with a bronze gnomon set slightly skew to face directly south. It shows signs of being worn by the wind and weather and there is no indication of its age or who put it there, though the churchwardens' accounts might give some clue. Once, workers at the nearby slate quarry lived here and gravestones record accidents and early deaths. Maybe the dial was needed to set right clocks and watches for those working at the quarry?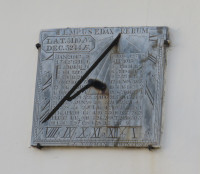 We went on, then, to Wheddon Cross where, on the wall of a house now named "Sundial Barber Shop" is perhaps Exmoor's most magnificent and well-known dial (Fig. 6). Made of a piece of slate about 15 inches square and two inches thick, it has been boldly and beautifully carved by J. Norman of Winsford whose name is set at the foot of the dial. The house on which it is placed was once he premises of Robert Gulliford, postmaster and watch and clockmaker in Cutcombe from 1866 to 1875 and perhaps for longer. He may well have commissioned Mr Norman to make the dial, though perhaps it was Gulliford himself who was responsible for the detailed information carved on the dial, which gives the relevant adjustments for accuracy throughout the year. Mr Gulliford would have needed a sundial to set his clocks accurately, for all clocks were set by the sun to local time until the coming of the railways. Then, the need for 9.30 am at Paddington to be 9.30 am at Bristol and at Exeter if passengers were to catch these new-fangled trains, led to people all over the country changing to 'London' time. At the top of the Wheddon Cross dial it reads: "Tempus Edax Rerum" (time the devourer of all things), a motto that is all too relevant in the rush of modern life.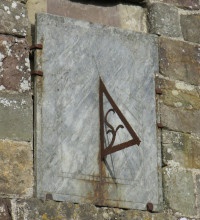 From Wheddon Cross, we drove across the moor, bright in purple, gold and brown, to North Molton. Here, the church was full of flower arrangers and last-minute cleaning and decorating. The parish was celebrating the completion and restoration of the church roof with thankfulness and well-justified satisfaction. The sundial over the porch is set on top of an older one (Fig. 7). It is a simple design in slate, rather at odds with the ornate lettering on the stones in the graveyard, some of which looked like advertisements for a Victorian printer showing off his type-faces! At the back of the church stood a clock, built in Barnstaple in 1564 at a cost of £6 13s 4d. It served the parish from the church tower until 1934 when its mechanism ground to a halt and it was replaced. Perhaps the coming of the railway to nearby South Molton in 1873 and the need to keep the old clock up to London time was just too much for it!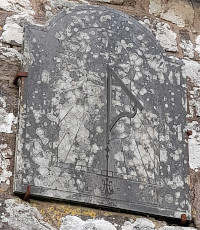 My friends and I left North Molton to its celebrations and made for High Bray on the next stage of our sundial safari. The parish church of High Bray stands on a hill, high above the village of Brayford which it serves. A footpath runs straight up the side of the hill from the village to the church, but I imagine that the Nonconformists who built their chapels snugly, cheek by jowl, down in the valley, may sometimes have attracted worshippers for slothful rather than doctrinal reasons. It must have been lot easier to pop round the corner to chapel than trudge the half mile or so up to the church. From High Bray there are wonderful views out towards Exmoor and the sound of the bell, telling the time from sundial to parishioners, must also have wafted out on the wind over great distances. The all-important bellringer is commemorated on the capital of a pillar near the font, his bell-rope wrapped round the column itself. The High Bray sundial is dated 1717 and bears the inscription, WB and TS Wardens (Fig. 8). It is delicately carved in slate although the traditional sun, surrounded by beams, bears a face whose narrowed eyes and bulbous nose puts one in mind of someone slightly the worse for drink.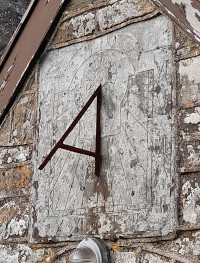 When we reached our next port of call, St Brendan's church at Brendon, we decided at once that the dial there had been made by the same mason who made the one at High Bray. In fact, the design, although very similar, is more crudely executed but it is earlier, 1709, so maybe the craftsman had had time to practise and improve (Fig. 9). There are no initials on the Brendon dial and the face on the sunburst is much more alert with wide open eyes and a mysterious smile. This church was in the process of being lovingly cleaned and the polishers stopped to welcome us and tell us how the building had been moved to its present situation from an earlier site at Cheriton, two miles away, in 1738. That it was moved 'stone by stone', as the story goes, is improbable although some important and valuable items like the font, the sundial and three medieval bells were certainly brought from the old church. With this information in mind, you can imagine my interest when I found in a sketchbook, held at Somerset Record Office and date 1797, a pen and ink drawing of Brendon Church, set in a glade and shored up by tree-trunks. The artist described it as being at Millslade rather than Cheriton. Two figures stand beside the church, one named as Betty Newton, Sexton. A pencilled note refers to Parson Clements who apparently wore a much-darned black handkerchief on Sundays "to safe washing". Quite what this enigmatic remark means is not clear! And did the traveller label his drawing incorrectly? There are several unanswered questions here that need to be followed up.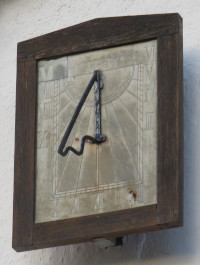 From Brendon we made our way to Porlock and Doverhay Place2, a fine house built before the turn of the century and occupied by Captain Thomas Perkins. (It is now a guest house for Countrywide Holidays.) Here, on the front of the house is a direct south sundial, built out from the wall in a wooden frame to ensure that it faced due south (Fig. 10). It carries the date 1898/9 and is made of slate with an iron gnomon. An inscription in copperplate reads, 'Sol lucet caritas extendit omnibus'.
In the garden we found an equatorial dial, its spherical bands forged in iron. It was set under trees where it could not possibly catch the sun to make a shadow. Had the conifers grown to this height since the dial was put there first or did the abbreviated quotation from Robert Herrick's poem, "To the Virgins to Make Much of Time", "Gather ye roses while ye may", imply that it had originally been positioned in the centre of the rose garden?
At the National Trust's Piles Mill Study centre at Allerford, we stopped to inspect the modern dial made in the shape of a mill-stone and given by the Minehead and West Somerset Centre of the National Trust to commemorate Sir Richard Dyke Acland's gift of the Holnicote estates to the nation in 1944. This dial has been specifically designed for use by students visiting the Study Centre. [See Figs 2-4 above]
It was too late to go on to Timberscombe and Old Cleeve where dials are recorded. They will have to wait for another day. And if anyone knows of other sundials in the Exmoor area, I should be happy to hear about them.
Acknowledgements
David's article was originally published in the Bulletins of the British Sundial Society 33(ii), and we acknowledge permission to reprint it with thanks.
Hilary's article was originally published in the West Somerset Free Press, September 1994, and we acknowledge permission to reprint it with thanks.
References and Notes
John Foad: 'Newly reported dials, 2020', British Sundial Society Bulletin, 33(i), 10-16 (March 2021); the dial is no. 8 on pp. 11-12
In recent times, Doverhay Place, Porlock, has changed hands and is now divided into a number of apartments. The vertical dial on the front of the house can still be seen above the front door, but it may not be possible to gain access to the grounds to search for the equatorial dial referred to by Hilary.