What it is to be young
Jenny Brown
Creating a sundial is an especial pleasure when it brings you into contact with an interesting event and a fantastic group of people, in this case, the Ferrar family and staff at the school the children attend. Winning the Royal Mail's Young Letter Writers Competition 2015 gave Iris Ferrar, now aged 10, the opportunity to commission an analemmatic sundial for her school, Alleyn's Junior School at Dulwich, with the prize money.
The competition entrants had to write a letter applying for their dream job. Iris wrote to a Mr Gruntspeak at The Extraordinary and Exotic Zoo, offering herself as 'your personal animal language decoder' using her invention of the 'Whistleclick Robot'1. She won the Under 11 age group. The competition attracted nearly 100,000 entries from one in five UK primary schools, and the prize was split between an element for herself and £1000 to her school. The school accepted Iris's proposal to spend their part of the award on an analemmatic sundial.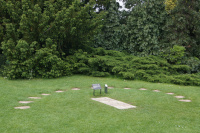 Living in Forest Hill, the Ferrar family had often visited the Horniman Museum and Gardens and its Sundial Trail2. Iris wanted the school prize money to be spent on an analemmatic sundial because she loved using the 'human' sundial at the Horniman and because she wanted something that 'amalgamated maths with art and was also an active piece, not just a bench with a plaque on it.'3 Brilliant reasoning!
Photograph by kind permission of the Horniman Museum.
Websites are a wonderful thing, and in due course David (my husband) received an email from Catherine Ferrar, Iris's mother, telling him of her daughter's wonderful achievement, the prize money and what she wanted to do with it. David was happy to accept a commission to provide the required sundial, though it was a tight squeeze to fit it all in between the beginning of June and the end of the summer holidays, agreed as being the ideal time for the installation. On June 8 he set to work on the planning, liaising with Catherine who was an admirable correspondent and link between Iris, David and all involved at Alleyn's Junior. Plans were afoot for some of the pupils to fix the north-south line with the help of the good old British Sundial Society publication 'Make a Sundial'4 but Iris reported that the end of the summer term felt like being on a roller coaster, so this valuable job was ably accomplished during the Summer holiday by Mrs Jane Mines, the school administrator, who was such a help with all the arrangements and looked after us so well on Installation Day. As usual, the all-important questions of where to site the sundial – away from trees, on grass or pavement, correctly orientated, prominent but not in the way, etc. – proved quite tricky to resolve. Eventually, the Headmaster, Mr Simon Severino, and Iris's class teacher, Mrs Katherine Beith, agreed on a grassy area on one side of the juniors' Adventure Playground, and all hoped the children wouldn't miss losing part of their football kick-about area too much.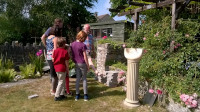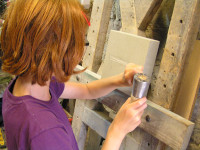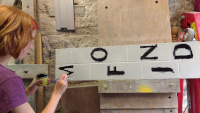 David proposed that Iris might like to come to Somerset one day in early August to have a go at stone letter-cutting. She could also use our grassy patch here in Somerton to find out how the setting-out of the sundial would be done. Iris was keen, and the visit was arranged to take place on the day that the family would be travelling to Wales for their holiday. I couldn't believe that the whole family would want to be involved so had helpfully prepared a list of local visits and activities that Iris's two brothers, sister and parents (and dog) might enjoy while Iris was busy with the sundial. But I underestimated the Ferrars! Not only did they visit Stonehenge and our local National Trust property, Lytes Cary, on the way (after a very early start from London), but the whole family joined in and enthusiastically took part in everything sundial-related before travelling on to Wales in the early evening.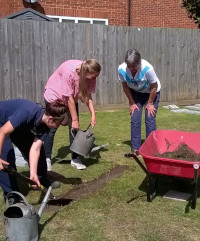 On Installation Day (August 26), David and I were on site at Alleyn's at 10 am. Time was now pressing so we had to go ahead although we knew that Iris was unlikely to be back from her holiday in time to help. We expected to complete the work that day, assisted by a former pupil and now gap year student, and two fabulous young members of the gardening team. Never before have we installed a dial on grass where a plentiful fresh soil was brought along and new grass seed sown as each stone was laid! However, the ground was so hard that the recesses for the stone markers could not be cut into it – a combination of the long dry spell and previous use for footie! There was nothing for it but to bring out the watering cans and later to turn on the sprinklers and hope that the ground would have softened up in time for a return visit four days later, the day before the start of the new school year.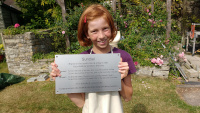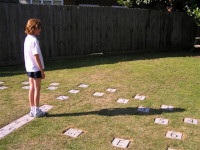 The sprinklers had only a small effect so it was as well that we had with us on our second visit a hammer drill to penetrate the very compacted stony soil. Iris and her younger brother and sister and father were back to help too. We finished the installation by mid-afternoon and left an instruction plaque that was later attached to a nearby fence. The sun shone on cue for Iris to test the sundial and proclaim satisfaction and amazement that it told the right time.
Iris performed the opening ceremony with the Headmaster Mr Simon Severino at the beginning of term.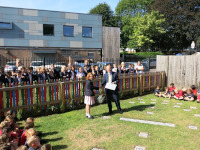 This was just one of the events that gave Iris the opportunity to demonstrate the sundial and talk about her exciting year, which she did with aplomb, humour, modesty, grace and the kind of felicitous turn of phrase that helped win her the prize in the first place. For example, earlier in the year on the day that the competition winners were announced (22 March, just before the Easter holidays), Iris toured the London radio and TV stations with the winner of the senior section of the competition. She gave 16 interviews in all and 'enjoyed thinking of responses to lots of different questions'. When she recalled this day in a talk she gave at a school assembly early in the summer term, she explained how she used the broadcast interviews to promote her longing for a hamster, presumably as a step on the road to the dream job she had written about in her prizewinning application: 'In the first interview, I began my national campaign for a hamster… After this, I almost always managed to put in a hamster reference.' One of her own prizes was a visit to Chessington Zoo where she wished that she had already invented her decoding machine and could converse with the sea lions, lynx, tigers and chimpanzees she saw there. She ended her school talk with a progress report, 'Hamster cage has been acquired; hamster to follow shortly.'
At the end of September, the sundial was officially on the 'Alleyn's School Tour' for Open Day and Iris, now in year 6, was a tour guide. All this very successful public speaking by Iris led several people to comment that a future in broadcasting could well be in store. Even Iris said in her assembly talk about her day of interviews, 'I think that my new dream job is to work in television and radio, perhaps as a presenter!' British Sundial Society members will rejoice that at least one more young person has become interested in sundials and has done a great deal, by commissioning the sundial and talking about it, to generate interest amongst many others, young and old alike.
David and I thoroughly enjoyed the whole experience (despite the time pressure) and also felt privileged to have worked with such fantastic family and staff members on this job. All were so appreciative of what David was able to do and wanted to know so much about the process and background of gnomonics. In retrospect, though, I think the sundial design should have featured a hamster at least!
References
Extracts from Iris's winning letter.
Horniman Museum and Gardens Sundial Trail. The analemmatic sundial was devised by Barry Small in 1992 and installed with the help of former British Sundial Society Secretary David Young. David Young was instrumental in the setting up of the Sundial Trail with contributions from many British Sundial Society members.
Extracts from Iris's talk to the school.
Jane Walker, Make a Sundial, British Sundial Society publication.
Notes
The sundial has a semi-major axis for the winter months of 2.8 m.
The stone is Forest of Dean sandstone 5cm thick.
The incisions are hand-cut, recessed about 2 mm, flat-bottomed and painted with black sign-writer's enamel.
The hour points etc. are 20 cm square.
Sunrise and sunset markers ('Bailey Points') are included.
The winter and summer hour ellipses are indicated with a snowflake and a full sun respectively at beginning and end of the scales.
All the stones have been treated with a transparent preservative solution.
Acknowledgements
This article was originally published in the Bulletins of the British Sundial Society 28(iv), and we acknowledge permission to reprint it with thanks.
Grateful thanks to Helmut Sonderegger whose excellent and free 'Alemma' software was used for the delineation of the sundial.